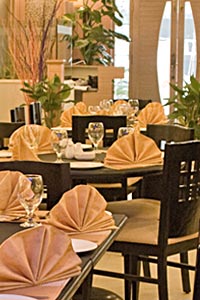 Stephen M. Katz offers a full range of legal services to the restaurant and hospitality industry. Whether your establishment is a chef-owned eatery, a nightclub, or a national chain, Steve Katz will help you make the wisest decisions to enhance your business and minimize your risks. He will guide you through the vast array of federal, state and local laws and regulations that govern the industry.
Legal services for the food and beverage business
As a Seattle restaurant lawyer, Steve Katz provides business and legal counsel in all stages of the life of the restaurant, from choosing a site to financing, licensing, employee relations and planning for a smooth transition to the next owner. Steve Katz offers many years of experience and expertise in areas such as:
Restaurant site selection and approvals.
Obtaining financing for your establishment.
Franchising.
Securing and maintaining all licenses and permits required for the sale of food and alcoholic beverages.
Choosing and structuring a business entity most advantageous for tax and other purposes.
Forming, maintaining, and dissolving corporations, partnerships, and LLCs.
Drafting corporation, partnership, shareholder, and operating agreements.
Analyzing, negotiating and drafting commercial leases, business plans, joint ventures, and investor agreements.
Drafting restaurant employee manuals and policies and counseling on employment and labor issues.
Drafting and negotiating restaurant purchase and sale agreements.
Resolving vendor, partner, employee, and customer disputes.
Clients in the food and beverage industry
Steve Katz's clients include restaurants and restaurant chains, franchisees, licensors, retailers, food and beverage producers and distributors, and packaged food companies.
Meeting the competition
To succeed in this competitive marketplace, restaurant owners need to structure their businesses in the most advantageous way. They need to operate efficiently, comply with a myriad of laws and regulations, and maintain excellent working relationships with regulators, employees, service providers, suppliers, and customers. They need to innovate constantly to maintain their position in the market. Seattle Restaurant Lawyer Steve Katz helps his clients do just that, by staying on top of business and legislative trends in the hospitality industry and taking care of all the legal issues so that the restaurants can concentrate on what they do best.