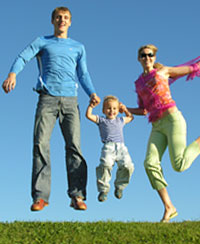 Wills, Living Wills, Power of Attorney, and Trusts
Have you recently experienced a big change in your life — a marriage or the birth of a child? Have you purchased real estate or started a new business? Are you thinking that it is time to have a will or make changes to your existing will?
If so, Seattle estate planning attorney Stephen Katz can help by drafting wills, durable powers of attorney, living wills, and trusts. He will guide you through the process so that in the event of your death or illness your estate plan will help protect what is most important to you — your spouse, life partner, children, friends, and religious or community organizations.
Why should you hire an estate planning attorney?
Everyone should have a will. A will is especially important:
if you are married,
if you have children,
if you are not married but have a "significant other,"
if you are remarried and have children by a previous marriage,
if you own real estate, or
if you own a business.
However, estate planning is more than creating a will. Issues concerning medical treatment require consideration of a disability plan and a "living will." Your estate planning documents should comfort you that you have taken care of your loved ones as well as yourself.
Wills
A will is the most important part of any estate plan. Your will allows you to decide who will receive your property after your death. If you have children, your will states who will be their guardian and how your assets will be used for your children's benefit in the future. You may be a small business owner concerned about who will succeed in the business. Or perhaps you own assets that you would like to leave to loved ones or give to charities. With a will, you can name your personal representative, the person who will carry out your wishes. In most cases, a simple will is enough, especially if you decide to name your spouse both as the sole inheritor of your estate and the guardian of your children. The laws and statutes are constantly changing. If your existing will is older, it may need an update. Even for a simple will, it is wise to have it reviewed by an attorney who can make sure that it meets the requirements of Washington law.
Living Wills and Health Care Power of Attorney
With the help of modern medical technology, it is more likely for a person to live for long periods without the physical ability to make important decisions themselves. A Living Will describes, in advance, your personal wishes about your medical treatment, and whether you want life-prolonging treatment in the event that you suffer from a terminal condition. A Health Care Power of Attorney appoints an individual to make decisions on your behalf if you are unable to speak for yourself. These documents are an important part of planning ahead.
Estate planning is not just for the wealthy. Establishing a written plan and reviewing it every few years can assure you that your wishes will be carried out. It permits you to decide exactly who will receive your assets and in what manner. By choosing a trusted family member or friend, you can have control even over situations where you are unable to speak for yourself. An attorney can help you find the best choices for your situation and counsel you in creating an estate plan that fits you and your family.
Don't let the State of Washington plan your future
If you don't have a will, the state has a law which determines who will receive your property. If you have minor children or a disabled spouse, the state could choose someone, perhaps a stranger, to handle their finances on their behalf and make important life decisions for them. If you become incapacitated and have not prepared the necessary documents ahead of time, the court could decide your finances and appoint a hospital committee to make your personal health care choices.
That is why it is so important to take an active role in planning for your future and the future of your family. Experienced estate planning attorney Stephen Katz will help ensure that the legal documents of your estate plan spell out clearly your wishes for your family and property as well as how those wishes will be carried out. In this way, you can keep your personal business out of the courts and in your own hands.
For experienced and personal care in drafting your will and other estate planning documents, contact Stephen Katz at (206) 525-5500.